Fit4LifewithBettie will help you get fit and stay healthy!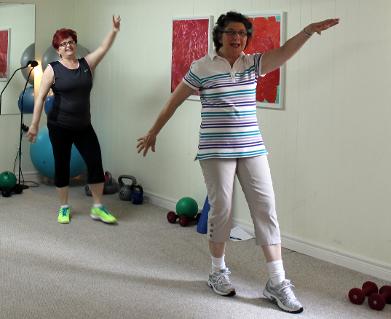 Personal Training Corner
You can train with me one on one at my studio, at your gym or your home. Call anytime to book a session.
New Book, released 2015
Physical Education for Homeschool, Classroom, and Recreation Settings - John Byl, Bettie VanGils Kloet WWW.HUMANKINETICS.COM
Whether you are looking for a useful PE book for your homeschooler or looking to supplement your physical education program, recreation program, or after-school or intramural program, this book is a great find.
The Premier Publisher of Sports and Fitness books, videos and courses.
New News...
The renovations are complete and the brand new studio is awesome. Come check it out!
About Fit4LifewithBettie
My mission is to help you get into the best shape of your life! I will help you pursue an active and healthy lifestyle.
I believe that anyone can get healthy, fit, and balanced with a regular program of exercise.
I believe you can..
*recover faster from injury
* prevent injury
* increase your energy levels
* improve your bone density
*improve your balance
HOW? By using a goal driven exercise program that balances cardio work with muscle development, you will see and experience positive changes!
Services
Ready to enjoy better health, higher energy levels, and physical wellness? Bettie welcomes people of all ages, sizes, and fitness levels to attain well-being, strength, improved flexibility and function, relaxation and enjoyment of life. Click on the "classes and schedules" tab to find the right class for you!
Drop by Bettie's fitness studio or contact Bettie directly at bkloet@sympatico.ca .
t. 905-517-1862